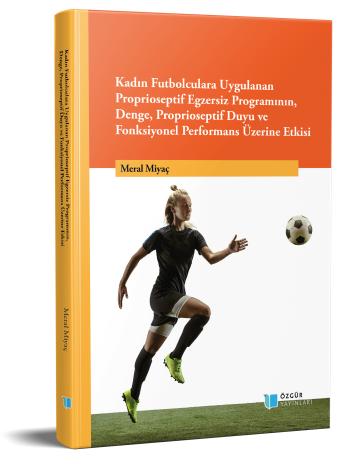 The Effects Of Proprioceptive Exercise Programme Given to Female Footballers Their on Balance, Proprioceptive Sense and Functional Performance
Synopsis
This study aims to investigate the effects of proprioceptive exercise programme given to female football players on their balance, proprioceptive sense and functional performance. 27 female  licenced footballers in Balıkesir who had been training regularly for 5 years were included in the research. The footballers were divided into two groups- namely, 14 educational groups (age: 20.36±2.65 years old, height: 163, 14 ± 7.13 cm, weight: 57.29 ± 6.44 kg) and 13 control groups (age: 21.69 ± 2.10 years old, height: 165,69 ± 8.56 cm, weight: 57.31 ± 6.01 kg). The athletes' physical and functional parameters were obtained under equal conditions without disturbing their daily life and training programme by using the two-stage pretest-posttest method. Accordingly, on day one bodily weight, height and bioelectrical impedance measurements were made. On day two athletes' static balance and proprioceptive sense measurements were made. On day three the athletes were asked to have a rest. On day four they were given 5, 10 and 20- metre speed and agility tests (Illinois, T test). On day five, the participants were given vertical jump tests. On day six the athletes in the educational group were given a 6-week, 3 days a week proprioceptive exercise programme in addition to their routine training programme. At the end of week 6, the 5-day measurements were repeated and the activity was terminated. Non-parametric comparison method was used since the data for the athletes did not have homogeneous distribution. Wilcoxon test was performed to analyse the changes occurring in the pre-test and post-test measurements in the control and the educational groups. The paired comparisons between the groups were made through Mann-Whitney U test. Significance level was regarded as p<0.05. The findings demonstrated that there were significant differences in the pre-test-post-test and static balance scores of the female footballers in the educational group who were given proprioceptive educational programme (ACOPX-ACOPY-FBSD-AFBS-P-EA, p<0.05) and that there were partially significant differences in their proprioceptive sense scores (ATE, p<0,05; Sİ-AFV, p>0,05). In the control group, however, no significant differences were found in static balance scores (ACOPX-ACOPY-FBSD-MLSD-AFBS-AMLS-P-EA, p>0,05) and in the values of proprioceptive sense (Sİ-AFV-ATE, p>0,05). On examining the pre-test and post-test results for the footballers' functional performance, it was found that there were no statistically significant differences between the footballers in the educational group and the footballers in the control group in terms of  their vertical jump (SS-YS-DS) and speed (10, 20, 30 m) scores (p>0.05). An examination of the agility tests (Illinois test, T test) of the educational group indicated that there were statistically significant differences (p<0.05). Yet, no significant differences were found in the values of the agility tests (Illinois test, T test) of the control group (p>0.05). In conclusion, it may be stated that giving proprioceptive programme to female footballers is influential in improving their static balance and agility performance, that it  had partially positive effects on proprioceptive sense and that it does not cause significant improvement in their vertical jumping and speed performance.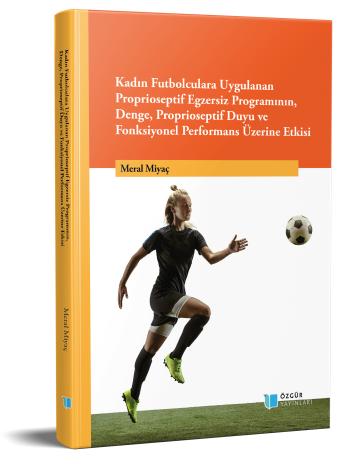 How to cite this book
Miyaç, M. & Günay, M. (2023).
The Effects Of Proprioceptive Exercise Programme Given to Female Footballers Their on Balance, Proprioceptive Sense and Functional Performance.
Özgür Publications. DOI:
https://doi.org/10.58830/ozgur.pub119
License
This work is licensed under a Creative Commons Attribution 4.0 International License.
Published
May 17, 2023
ISBN
DOI
Copyright (c) 2023 Meral Miyaç; Mehmet Günay